4th Of July California earthquake information here!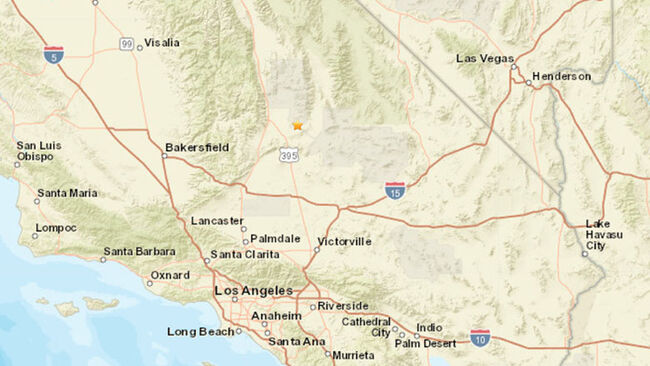 Links -
USGS website here - https://earthquake.usgs.gov/earthquakes/eventpage/ci38443183/executive
The Next California Quake on Facebook - https://www.facebook.com/nextquake/
Kern County Fire Department on Twitter - https://twitter.com/kerncountyfire
How to prepare for an earthquake - https://www.fema.gov/media-library-data/1408632135401-3d0521fa59d0dd4016e82f08fe7f3732/PrepareAthon_EARTHQUAKES_HTG_FINAL_508.pdf
Information for Ridgecrest and surounding areas -
Temporary shelters have been set up in Ridgecrest at the Walmart at 201 E. Bowman Road and the Kerr McGee Center at 100 W. California Ave in Ridgecrest
Law enforcement is urging residents in the Ridgecrest area to stay off their phones and free up lines for emergency use only.
Firefighters later said a survey of Highway 178 through the canyon showed it to be clear.
Kern County firefighters said around 11 a.m. they were handling a couple dozen incidents ranging from structure fires to medical assistance in and around Ridgecrest. Urban search and rescue teams were also responding.
Ensure you do the following if you are indoors during an earthquake:
·DROP to the ground; take COVER by getting under a sturdy table or other piece of furniture; and HOLD ON until the shaking stops. If there isn't a table or desk near you, cover your face and head with your arms and crouch in an inside corner of the building.
·Stay away from glass, windows, outside doors and walls, and anything that could fall, such as lighting fixtures or furniture.
·Stay in bed if you are there when the earthquake strikes. Hold on and protect your head with a pillow, unless you are under a heavy light fixture that could fall. In that case, move to the nearest safe place.
·Do not use a doorway except if you know it is a strongly supported, load-bearing doorway and it is close to you. Many inside doorways are lightly constructed and do not offer protection.
·Stay inside until the shaking stops and it is safe to go outside. Do not exit a building during the shaking. Research has shown that most injuries occur when people inside buildings attempt to move to a different location inside the building or try to leave.
·DO NOT use the elevators.
·Be aware that the electricity may go out or the sprinkler systems or fire alarms may turn on.
Ensure you do the following if you are outdoors during an earthquake:
Stay there.
·Move away from buildings, streetlights, and utility wires.
·Once in the open, stay there until the shaking stops. The greatest danger exists directly outside buildings, at exits and alongside exterior walls.
·Ensure you do the following if you are in a moving vehicle during an earthquake:
·Stop as quickly as safety permits and stay in the vehicle. Avoid stopping near or under buildings, trees, overpasses, and utility wires.
·Proceed cautiously once the earthquake has stopped. Avoid roads, bridges, or ramps that might have been damaged by the earthquake.

Danny Spanks
Want to know more about Danny Spanks?